February 9th, 2007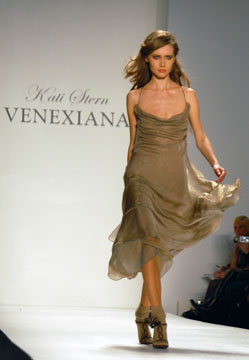 Photo Credit: Omiru: Style for All

Key Takeaways: A refreshing change from the boxy shapes of past seasons, Kati Stern brought back floaty shapes and 1940's Hollywood glamour. Models seductively strode down the runway to old-school hip-hop beats with romantic Veronica Lake hair wearing knee-length dresses of chiffon and fur coats paired with slim oatmeal-colored leggings. Delicate chiffon followed luxurious sable, satin and velvet down the runway. Lowered pockets, bows and piping accentuated the luxurious feel of the collection. Key trends included: sleeved dresses, voluminous sleeves, oversized collars, oversized buttons, pocket detailing, plaid, and fur.
Color Palette: Sand, wood and charcoal-inspired colors let us reminisce about faded sepia prints from grandma's boudoir.
Silhouette: A-line skirts and slim pants complemented Little Red Riding Hood capelet fur coats. Romantic silk and chiffon dresses were slender and form-fitting with hemlines that ranged from knee-length to floor-sweeping. Waistlines varied, sitting at the natural waist to the hipline. Leggings–a continuing trend–were also featured.
Accessories Report: A shoe for every occasion – t-strap heels for long flowy dresses and Mary Janes for sassy shorter dresses. Belts and bows were wide with a soft sheen, and large floppy sable hats perched jauntily on top of long loose hair.
What's Wearable: We loved the layers upon layers of chiffon and silk in the dresses – controlled volume with a lot of romance.
What's Not Wearable: Skip the socks with your heels–wear stockings or go bare.
Entry Filed under: Runway Reviews,Runway Reviews,Trend,Women