February 12th, 2007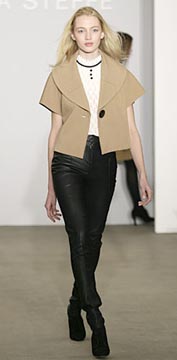 Photo Credit: NewYork Magazine

Key Takeaways: Cynthia Steffe's sweetly chic Fall 2007 collection presented familiar silhouettes and details, such as oversized jackets and cardigans, dresses with pockets, and the Spring 2007 favorite, skinny pants.
Color Palette: Black, white, grey and medium beige, complemented by lavender, magenta and shades of purple.
Silhouettes: Loose shapes ended at the knee, and were paired with slender black stockings or pants layered underneath. Controlled volume made appearances at the waistline, the hemline, and on sleeves. Of note were the dresses, which featured sleeves and/or pockets, and the jackets, which distinguished themselves with oversized sleeves and/or collars.
Accessories Report: Wide bangles in crème, clear and silver mesh as well as thin belts with finger-width silver polished buckles.
What's Wearable: Victorian-inspired high necked dress shirts will be elegantly wearable this fall.
What's Not Wearable: Avoid mixing two strong patterns, such as florals with stripes, unless you have a good eye for pattern.
Entry Filed under: Runway Reviews,Runway Reviews,Trend,Women