February 12th, 2007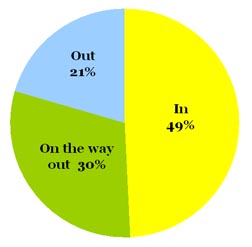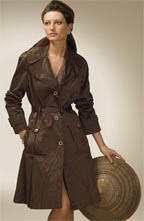 We asked: Is Metallic Fashion (e.g. Gold and Silver) In or Out?
You said: Metallic fashion is in, but it's a trend, not a classic. 49% voted metallic fashion In, but 21% voted it Out.

Omiru's take: While metallic fashion is more fitting during the holiday season, there's no need to put it away once you take the tinsel down. But take the advice of our friends at Couture in the City–skip the head-to-toe shiny getups and opt for metallics in moderation. Be aware, though, that the shiny nature of metallic fashions tends to add pounds, so apply the shine liberally. The safest bet? Metallic accessories. Try a pair of silver heels–or a burnished gold handbag.

Next Question: 80s Fashion was all over Fashion Week–think off-the-shoulder tops, gold lamé, and high-waisted jeans. But what do You think? Tell us, is 80s Fashion In, or is it Out? Cast your vote on the sidebar!
Pictured: DKNY Metallic All Weather Trench Coat | $168 at Nordstrom.
Entry Filed under: Trend,Trend Predictives,What's In and What's Out,Women