February 19th, 2007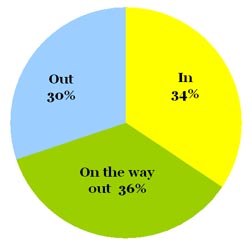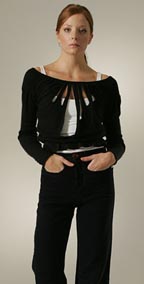 We asked: Is 80s Fashion In or Out?
You said: The 80s called, and they want their clothes back. Nearly as many people voted 80s Fashion Out (30%) as In (34%).

Omiru's take: True–the 80s did give us more than their share of fashion mishaps. Think giant shoulderpads and the parachute pant (eek). But that doesn't mean that we should throw out the baby with the bathwater. Gold lamé, in moderation, can provide sparkle to an otherwise ordinary evening outfit. And off-the-shoulder tops can beautifully counterbalance narrow pants.

Next Question: Colorful accessories lit up the runways at Marc Jacobs and Duckie Brown. But what do You think? Tell us, are Colorful Accessories In, or are they Out? Cast your vote on the sidebar!
Pictured: Grey Ant Slash Top | $209 at Shopbop.
Entry Filed under: Men,Trend,Trend Predictives,What's In and What's Out,Women