Q: I love trapeze tops, but think I am too old. How can women in their late thirties (39) modify [this] trend?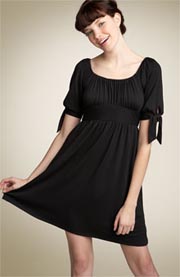 A: If you love trapeze tops, you should wear them! Just be mindful of what
you wear them with, and look for styles with an appropriate amount of coverage. Some rules of thumb? Look for sleeved styles, and avoid overly exaggerated shapes.
Pictured is a trapeze shaped "dress" that would work
nicely over jeans or pants: Velvet Torch Scoop Neck Empire Dress ($52 at Nordstrom.
It has a flattering neckline and an easy to wear shape, and at that price,
it's a deal. If you're feeling more adventurous, you might want to try
this colorful Nanette Lepore Print Shift Dress ($275 at Nordstrom)…again, over a pair of pants.
Another Omiru reader, Robyn, offered up another idea for sleeveless trapeze tops. Robyn suggests layering a sleeveless trapeze top over a long sleeved shirt or turtleneck. Not only will the layered tops keep you warm this Winter, but it also makes the trapeze top look more age appropriate.
Style question? We've got answers. E-mail us at tips at omiru dot com, or leave us a comment with your question.

3 comments March 1st, 2007