Q: When the weather gets warmer, I want to wear shorts. But I'm petite (5′2"), and I can't seem to find a pair that doesn't make me look short.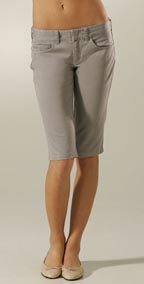 A: You can wear shorts–but it's all about proportion. Short shorts, while they visually elongate the legs, are generally unflattering unless you're blessed with a model's figure. And below-the-knee styles cut your legs in a way that visually chops off a few inches of height.
Make the most of what you've got by choosing a pair of shorts that hits at about the knee level. Everyone has an optimal shorts (and skirt) length. Find yours by standing in front of a mirror and rolling up the short legs little by little until you find the length that makes your legs look the longest and leanest.
Our final tip? Look for shorts with a lean leg in order to optimize your visual height.
Pictured: Vince Stone Washed Twill Knee Crop Shorts | $155 at Shopbop

Style question? We've got answers. E-mail us at tips at omiru dot com, or leave us a comment with your question.

6 comments March 8th, 2007