March 11th, 2007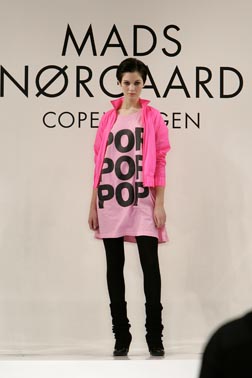 By Priyanka Ghosh and Julie Gulfer
Key Takeaways: The title of this Mads Nørgaard show was Speak Up, and the theme was that "what you wear should support you in your ways and beliefs." This 80s and 90s inspired collection stayed true to its theme with a range of provocative statement-making fashion geared towards the liberal-minded urban youth of Europe. Key trends included: the mini skirt, logo tees, mock-neck and turtleneck collars, color blocking and off-the-shoulder tops.

Color Palette: Three color schemes dominated: (1) Basic black, white and grey, (2) Bright primary colors of yellow, blue, green and red, and (3) Metallics.

Silhouettes: In a fashion week characterized by volume and layering, Mads Nørgaard's collection felt pointedly slim and sleek. Straight hip-hugging mini skirts were paired with seamless mock-neck zip jackets. Snug long-sleeved cotton tunics were slipped on over neon leggings and tights. Light jersey knit sweatshirts worn off the shoulder were worn with high-waisted patent leather skinny pants.
Accessories Report: Leggy models strutted down the runway in short skirts and tight tops, while their necks and heads were covered in the politically charged black hijab veil. This accessory demanded that the audience acknowledge the undeniable intersection between fashion and politics. Other accessories included leg warmers, ski caps and scarves tied around the neck in a bandit-like fashion.
What's Wearable: We adored the black jersey tunic worn with one sleeve off the shoulder, as the off-the-shoulder style can elongate even the shortest of necks.

What's Not Wearable: Steer clear of the neon yellow and orange spandex tights, as they are liable to super-size legs and thighs.
Entry Filed under: Runway Reviews,Runway Reviews,Trend,Women