Mother-daughter team Marly and Juliana Renz are bringing sexy Brazilian style to the American market with Le Doux. With daughter Juliana's eye for design and mother Marly's experience in the fashion industry, they created a high-end swimwear line featuring embellished styles fit for women of leisure. Read on to learn more about the luxurious swimwear line, Juliana's best swimsuit flattery tip, and what to expect next from Le Doux.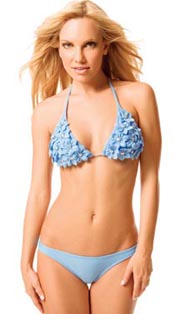 Omiru: How would you like people to describe Le Doux?
Juliana: I hope people think of good quality, cute designs, and good fit.

O: Tell us about your design inspiration.
J: I get my inspiration mostly from materials. I go shopping for stones, and I get ideas from colors, the stones, and fabrics. Sure, time periods are interesting, but only as a reference. I can't design clothes that look like costume.
O: You and your mother work together on Le Doux. What's it like working with family?
J: Difficult. We tend to only talk about business. Don't get me wrong—we have and always had a good mother-daughter relationship. But we end up talking about business instead personal stuff, and it's easy to get frustrated with each other when talking about business.
O: Le Doux swimsuits are actually made in Brazil. Why?
J: In Brazil, we have our own factory. We did this for quality control. We want to make sure everything is as perfect as can be. We've tried working with manufacturers before, but there was always something wrong. Either the color was off, or the end product looked like it was low quality.
O: What's your bestselling style?
J: Femme Fatale is a big hit. Flora [pictured above left] is also doing very well.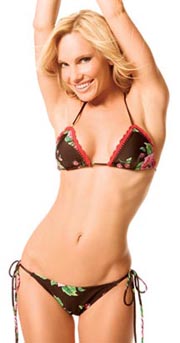 O: How about your current favorite style?
J: I'm a fan of the Flora style. Flora has volume and is embellished. But it's a bit hard to wear. I also like the simpler styles. Of those, I think Rose [pictured at right] is very good.
O: Your swimsuit designs tend to be fancy and embellished. Who are you designing them for?
J: They're for people who want to lounge around looking beautiful. They're for the style conscious who sit around by the pool or on the beach. They're not surfing suits, they're not sports suits.

O: There aren't a lot of people in that market.
J: It's a shame. The materials we use are expensive, so we need to be at a higher price point. Sadly, the market at the end of the day is all about price. For 2008, we're changing the line a little bit to create a sub-line. We'll have plainer suits at a lower price point.

O: Le Doux combines Brazilian sexiness with California style. What do you love about LA?
J: I love the way people are just so stylish in LA. People are ready for whatever they're doing. Brazil's not that way at all. I love the city—the weather, the way people socialize, the way that they're constantly out. There's a certain energy there.
O: And what do you love about Brazil?
J: I grew up in Brazil, where there's a big big beach culture. People love to have fun. In Brazil, it's all about having fun. It's different from United States. There's a freer spirit there.
O: Having grown up in Brazil, you're a beach connoisseur. What's your favorite beach?
J: The beach I grew up on. I love Rio. But I also love the South of France and Maui.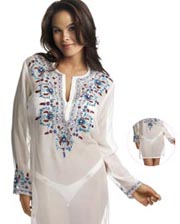 O: Fashion Dos:
J: Clothes that are sexy without revealing too much. Clothes that are appropriate for one's body type. Clothes that aren't just what everyone else is wearing. Clothes that are appropriate for you.
O: Fashion Don'ts:
J: The 1980s. The fashion was ugly then, and it's uglier now. People are so used to wearing whatever they're told.
O: Little known fact about you?
J: I'm a surfer and a shopaholic. But these aren't little known facts.
O: What can we expect next from Le Doux?
J: We'll be doing swimwear for girls in July. We're also launching a sleepwear/lingerie line in the next couple of months.
O: Where can Omiru readers purchase Le Doux swimwear?
J: We have stores in California, Arizona, Hawaii, Florida, Nevada, and overseas. We'll be selling online in a couple of months as well.
O: Last Words?
J: The less fabric a suit has on the back, the smaller the butt looks. Brazilians used to wearing small suits—now you know why.
Love Le Doux? Check out Le Doux's entire collection at: http://www.ledouxswimwear.com/.


Add comment March 12th, 2007