March 14th, 2007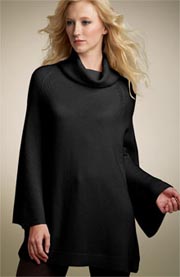 Q: I just found a great bargain on a black cashmere turtleneck and love it. But it seems a little plain to me - I'm just used to seeing my neckline and my favorite necklace sticking out. I've been told by some girls I know that a turtleneck works well with something over it - but what?
A: With high necked shirt styles, like turtlenecks, you want to counterbalance with a long necklace. And the more substantial the turtleneck, the more visual weight the long necklace needs to hold. A chunky turtleneck, for example, requires a heavier chain or larger, bolder stones. A more lightweight turtleneck, however, can be paired with a more delicate necklace.

Since the turtleneck you're accessorizing is a simple, elegant black, you may want to pair it with a necklace with more of an edge. For an edgy elegant look, you may want to try a necklace like Erica Anenberg's "Junk Necklace." It features a 30" sterling silver chain and unusual found item charms that should contrast nicely with the sophistication of the black turtleneck.
Pictured: Theory 'Juliet' Cashmere Sweater | $197.90 at Nordstrom. Erica Anenberg 'Junk' Necklace | $156 at Erica Anenberg.

Style question? We've got answers. E-mail us at tips at omiru dot com, or leave us a comment with your question.