Q: I've been invited to a wedding in September. The location is Cape Cod, and the dress code is Black Tie. But the venue is the beach. What the heck do you wear to a Black Tie Beach Wedding?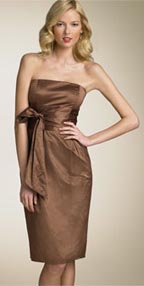 A: A black tie beach wedding? What a challenge–but it's not one we can't handle.
Black tie attire for women translates into cocktail dresses, long dresses, or evening separates. Considering the location of the wedding, though, we'd prefer a cocktail dress over a long dress, which could potentially read as too formal for the occasion. The ideal dress for a black tie beach wedding would be formal in feel, yet unfussy and something you could easily move around in.
We suggest:
Laundry by Shelli Segal Strapless Satin Sheath | $295 at Nordstrom (Pictured).
We love the gorgeous travertine color, elegant shape, and the effortlessly chic bow.
Vena Cava Gotham Dress | $535 at blaec
Quirkily arty in a way that blends the casual and the formal.
Vena Cava Marie Dress | $365 (sale) at blaec
Not your everyday LBD. Plus, the abalone buttons playfully echo the wedding location.
Norma Kamali Everlast Bubble Halter Dress | $340 at Nordstrom
For a dollop of drama, you could try this Norma Kamali dress with a plunging halter neckline.
What about shoes? Look for a pair of dressy sandals–the open toe is key for walking through the sand. Make sure to choose flats, as heels and sand don't mix. Feel free to bring along an extra pair of dressy shoes for the post-beach festivities!

Style question? We've got answers. E-mail us at tips at omiru dot com, or leave us a comment with your question.

2 comments March 27th, 2007