Q: I'd like to buy a nice pair of khakis. I have a size 30 waist, and I'm slim and tall. I'd like khakis that aren't super tight–but I want them fitted, not loose or baggy in any way. What and/or where would you recommend?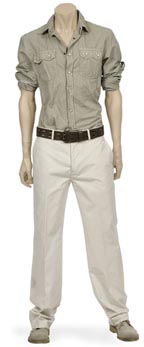 A: For mall-type stores, Club Monaco is probably going to be your best bet. They tend to cut their clothes slimmer than that of other stores. Banana Republic also tends to fit slim men well.
Depending on the how snug you want the fit to be, you may want to look into designer brands as well. Prada, in particular, is known to cut their garments extra slim–but they're rather pricey.
Pictured: Straight Leg Cotton Dress Pant | $129 at Club Monaco.

Style question? We've got answers. E-mail us at tips at omiru dot com, or leave us a comment with your question.

1 comment March 28th, 2007