Q: [I just got] a pair of navy capri pants that end just under the knees. They're tapered, but not clingy, just sort of in between tight and baggy. The fabric's slightly shiny, so I'm wondering what I could match with them.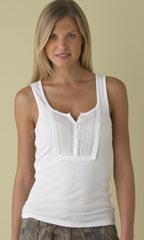 A: Navy blue shorts play right into a continuing trend for Spring: Nautical Fashion. But rather than literally translating the seafaring trend with horizontal stripes or rope detailing, try pairing the shorts with a white top with dressy detailing, such as this Pintucks and Lace Tuxedo Tank ($36.50) at J Crew (pictured) or this Love Squared Swiss Dot Babydoll Top ($26) at Nordstrom. Added bonus? The dressiness of the top will complement the slight shine on the shorts.
Another idea? Try pairing the navy shorts with a yellow top for an unexpected splash of color. You might want to check out the Susina Pointelle Apron Camisole ($38) at Nordstrom or the Scoop Neck Tunic in Bright Yellow ($17.80) at Forever 21.
Pictured: Pintucks and Lace Tuxedo Tank | $36.50 at J Crew.
Style question? We've got answers. E-mail us at tips at omiru dot com, or leave us a comment with your question.

Add comment March 29th, 2007