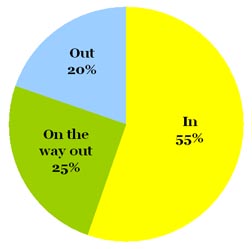 We asked: Are Dropped Waist Dresses In or Out?
You said: Dropped Waist Dresses are In. A 55% majority are all for this 20s-inspired dress trend.
Omiru's take: Bring this 1920s dress into the 2000s with bright colors or modern detailing, like pockets. (We can't get enough of dresses with pockets!) And go easy on the sequins and beading found on so many flapper style dresses.
Style tip? While Dropped Waist Dresses are flattering on those with long legs, they're much less kind to long waisted women with short legs. The style visually lengthens the torso–and makes legs look shorter.
Next Question: We've reported on bright colors as a key trend for Spring 2007–and we've been seeing more and more Hot Pink out on the streets. But what do you think? Tell us, is Hot Pink In, or is it Out? Cast your vote on the sidebar!
Pictured: Leyendecker Horsehair Hem Drop Waist Dress| $264 at Shopbop.

Add comment April 30th, 2007