April 3rd, 2007
Q: Can I wear flats to a club?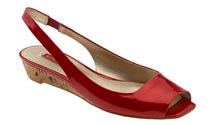 A: Yes, you can wear flats at a club. In fact, you're even encouraged to do so, as flats are particularly stylish this season.
At the club, the perfect outfit is sexy–but not super scandalous. You want to show off some skin, but not wear anything overly revealing. Case in point: if you're wearing a miniskirt, a top with a bit more coverage is in order to balance out the outfit. Or if you're wearing a low-cut top, try a more conservative skirt or pants.
Why might you want to wear flats at a club? Wearing flats instead of heels can take an over-the-top outfit down a notch. Plus, they're *that* much more comfortable, meaning you can dance the night away–pain free.

Pictured: Nine West 'Ladyville' Slingback | $62.95 at Nordstrom.
Style question? We've got answers. E-mail us at tips at omiru dot com, or leave us a comment with your question.