Q: I have not yet caved into the skinny jeans trend. I'm short, so my legs are not long, and I fear that hemming the [jeans] would cut off the taper. Any suggestions?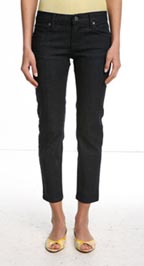 A: Skinny jeans can look good on short people. However, the shorter you are, the leaner your legs must be to pull off the look successfully.
If you do decide to go with the skinny jeans, you do run the risk of cutting off the taper if you hem the pants. Good instincts. Should you hem the pants, we recommend taking them to a good tailor who can recreate the taper of the pants.
But the skinny jeans aren't the only hot pants style out there. We're rather fond of Wide Trouser Jeans, as they're as stylish as they are figure flattering.
Pictured: BDG 5 Pocket Capri Skinny Jean Dark Blue | $49 at Urban Outfitters.
Style question? We've got answers. E-mail us at tips at omiru dot com, or leave us a comment with your question.

24 comments April 5th, 2007