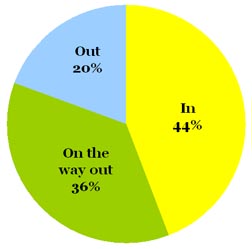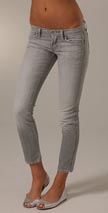 We asked: Are Skinny Jeans In or Out?
You said: On the way out. Only 44% voted skinny jeans In, and the remaining 56% majority voted it either Out or On the Way Out.

Omiru's take: For a trend that poses so many figure flattery problems, skinny jeans have had amazing staying power–even if it has been on the "On the Way Out" side of the trend cycle for the majority of that time. A year ago, in April 2006, 53% of you voted skinny jeans Out or On the Way Out. With statistics like that, we would expect this trend to be fully Out a year later. Not so.
If you do decide to wear Skinny Jeans, our style tip for you today is Grey Denim. It's a departure from the standard blue jeans, and it's perfect for Spring.
As for us, we've moved on to Wide Trouser Jeans.

Next Question: Our friends at The It Lists reported on Ruffles as a new IT trend for Spring. But what do you think?
Tell us, are Ruffles In, or are they Out? Cast your vote on
the sidebar!
Pictured: Citizens of Humanity Paley Ankle Skinny Leg Jean| $163 at Shopbop.
2 comments April 9th, 2007