April 11th, 2007
Q: Where can I find khakis and jeans for guys who have very thick thighs? My husband played football and has a 44-46" waist & 30" inseam, but his thighs can not fit into many brands. Also, for some reason he thinks pleats look best on his body, but I have always heard pleats make you look bigger. Help!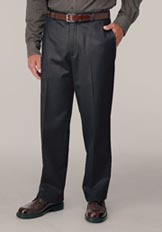 A: Good instincts–pleated pants do make you look bigger. Flat front pants are visually slimming, while pleated pants create more volume exactly where you don't want it.
For men with thick thighs, we have 3 recommendations:
1. Look for "Relaxed Fit" styles, which have added room in the seat and the thigh.
2. For a slimming look, try dark colored pants, a wide leg, and a slightly lower rise.
3. As for where to buy the pants, try brands like Dockers, Eddie Bauer, and St. John's Bay (at JC Penney).

Pictured: Premium Never-Iron™ Cotton Khaki - Flat Front | $70 at Dockers.
Style question? We've got answers. E-mail us at tips at omiru dot com, or leave us a comment with your question.