April 12th, 2007
Q: Are there any cute and formal shawls for cocktail dresses? I'm looking for something easy to wear when it's a little cold outside.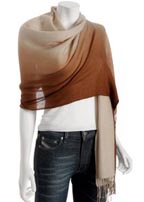 A: Shawls are a great way to cover up an evening gown or cocktail dress without overdressing with a (stuffy) long wool coat. Here are a few of our favorite shawls for evening:
Anne Klein Sequin Georgette Wrap | $48 at Nordstrom
Square sequins dress this wrap up.
Kashmere Khaki Ombre Cashmere-Blend Shawl | $79 at Bluefly (Pictured)
The ombre color gradations make this wrap a standout.
Nordstrom Tissue-Weight Cashmere Wrap | $99 at Nordstrom
Lightweight cashmere with a fringed, tasseled edge.
Giorgio Armani Border-Striped Linen Wrap | $215 at Saks
The border detail is classic, but we're not as fond of the price.
Style question? We've got answers. E-mail us at tips at omiru dot com, or leave us a comment with your question.