April 13th, 2007
Q: I am getting married, and my mother keeps picking out dresses for herself that are beige and shapeless. How can I get her to see that she can look good in a little colour and a dress with some style to it?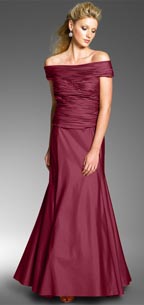 A: Congratulations on your upcoming wedding! The only hard and fast rules about Mother of the Bride dresses (and Mother of the Groom dresses, for that matter) is that they should:
(1) Be a noticeably different color from the bride's dress, so steer clear of white, cream, and ivory.
(2) Not be too flashy. Too much exposed skin, or overly shiny fabric can upstage the bride.
Beyond that, the sky's the limit, so your mom doesn't have to limit herself to shapeless–or even beige–dresses. Here's three dress suggestions that will help your mom look her best on your wedding day:
JS Collections Off Shoulder Shirred Taffeta Gown | $218 at Nordstrom (Pictured)
Off-the-shoulder neckline for drama and a ruched bodice to minimize a tummy.
Niteline Strapless Bustier Gown with Bolero Jacket | $508 at Nordstrom
A criscrossed pintucked bodice with boning for support, plus a fitted bolero jacket.
Sean Collection Beaded Dress with Jacket | $278 at Nordstrom
V-necked floor length dress with bolero jacket, available in both regular and petite sizes.
Style question? We've got answers. E-mail us at tips at omiru dot com, or leave us a comment with your question.