Q: I'm a closeted fashion fiend, and I'm dying to slip into some cute ballet or pointy toed flats. However, I'm not sure what kind of pants I need to wear with them. I'd like to dress down the flats with jeans, but what kinds/colors/shapes of jeans are acceptable to wear with them? Do they all need to be tighter and tapered? Or can I wear slightly bagger jeans with it and not look ridiculous? Please help!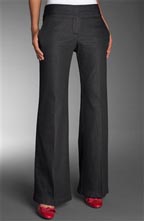 A: You can definitely wear jeans with flats. And no, the jeans don't need to be skinny and tapered. A wide trouser jean, in our opinion, looks just as good with flats–and it's 10 times more figure flattering.
If you want to play it safe, all you have to do is match the formality of the flat with the formality of the pant.
Wide trouser jeans (and work pants) look particularly sharp worn with a pair of pointy flats. And, we might add, a pair of dark rinse wide trouser jeans and pointy flats are the foundation of a perfect Casual Friday look. The more casual ballet flat is especially fetching with a pair of capri pants, a dress, or a skirt. But it's perfectly acceptable–even encouraged–to ballet flats them with full length pants as well.

Pictured: Wardrobe Wide Leg Stretch Denim Pants | $68 at Nordstrom.
Style question? We've got answers. E-mail us at tips at omiru dot com, or leave us a comment with your question.

Add comment April 19th, 2007