April 20th, 2007
Q: I'm going to a prom, and I'm having so much trouble deciding what to wear. I am really short (4′7"), so I don't want to wear a long dress as I think it will make me look really short. Also, I have average coloured Asian skin so I'd appreciate it if you could suggest what colour to wear.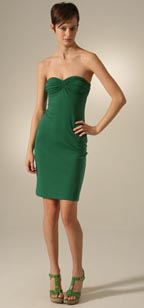 A: Long dresses do have the potential to make you look short–you might want to consider above-the-knee and knee-length dresses.
What else might you want to look for in a dress to make you look taller?
(1) A high waistline, such as an empire waist, to shorten your torso and make your legs look longer. The longer your legs look, the taller you appear.
(2) Vertical detailing–through buttons, seamlines, or trimmings–or even an off center slit.
As for what color to wear, black is safe and slimming (which makes you look taller), but Asian skin looks amazing in bright colors. A deep red, a cool blue, an emerald green–any of these colors will complement your skin.
Hope this helps, and have fun at the prom!

Pictured: Susana Monaco Hudson Peg Dress | $124 at Shopbop.
Style question? We've got answers. E-mail us at tips at omiru dot com, or leave us a comment with your question.