April 25th, 2007
Q: What's the best way to keep new clothes looking new? Whenever I buy something, it looks great the first time I wear it, but then after the first or second wash, it starts looking older and older.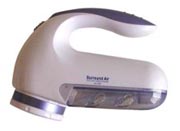 A: Clothes start to look older after washing for three main reasons: (1) Color Fading, (2) Pilling, and (3) Wrinkling. Here's how to combat each:
Problem: Color Fading
Solution: Wash your clothes in cold water. Many clothing dyes aren't color fast to begin with, and the tendency to "bleed" increases with the temperature of the water. Colors tend to become permanent after a few washes–and the garments under high heat accelerates the color setting process. Note: Always wash denim inside-out to prevent color loss.
I've found that using gentler detergents (like Woolite) helps to extend the "new" look of my clothes. Oh, and if the garment says "Dry Clean Only," do just that.

Problem: Pilling
Solution: Buy a fabric shaver to quickly and safely remove the "pills" (balled up fuzz) and lint from your clothes. Fabric shavers, like the model pictured, are especially useful to give new life to sweaters.
Pilling happens when your clothes rub up against something else. In the washing machine, this can happen when clothes rub up against the sides of the machine–or when they rub up against each other.
To minimize pilling, we recommend (1) placing items prone to pilling inside garment bags, (2) using the delicate cycle, and (3) not overloading your washing machine full of clothes.

Problem: Wrinkling
Solution: Fold or hang your clothes as soon as the dryer cycle ends. The longer clothes sit in the dryer after the dryer cycle ends, the more wrinkled they will become.
If you can't take clothes out of the dryer right away, try moistening a hand towel and adding it to the load and then run the dryer for 10 minutes. The heat and moisture combination works much like a steamer and will help reduce wrinkling.
You can use a fabric steamer to remove wrinkles in your clothes. Steamers are less harsh than irons on your clothes–and will help to preserve their usable life span.

Pictured: Surround Air XJ-350 Electric Fabric Shaver | $29.99 at Target.
Style question? We've got answers. E-mail us at tips at omiru dot com, or leave us a comment with your question.