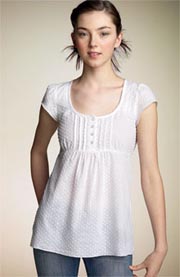 Q: I am heading to East Africa this summer to volunteer. We've been advised to wear shirts that cover our shoulders and skirts that are at least mid-calf length, as well as closed-toed shoes. How can do this without looking awful?
A: Volunteering in East Africa–what a noble thing to do. But just because you need to cover yourself up doesn't mean that you need to look dowdy. Here's how to stay stylish this summer:
Short Sleeved Fitted Tops: Cover your shoulders with cute cap sleeved tops that contour your curves. Wear these with both long skirts and pants.
Tanks over Tees: If you can't bear to go without your camisoles and tank tops, try layering them over fitted tissue-weight t-shirts for a playful look.
Bright Colors: Spice up a simple outfit with a burst of color. Bright yellow and cobalt blue, in particular, are favorites of Omiru readers.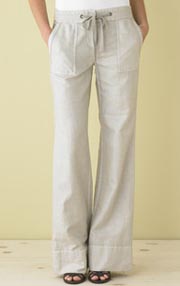 Full Length Skirts: Mid-calf length skirts tend to be unflattering, as they make your legs look shorter. Wear full-length skirts in flowy fabrics instead.
Pants: Tired of skirts? Pants are also a functional option for your volunteer work. Look for breathable fabrics like cotton so as to not overheat. Tip: You can wear tunics and babydoll tops over pants.
Here's a couple of outfit ideas to get you started:
Casual Chic: Tunic + Jeans + Sneakers.

Flirty and Feminine: Camisole + Tissue-Weight T-Shirt + Full Length Skirt + Flats.

Pictured: Love Squared Swiss Dot Babydoll Top | $26 at Nordstrom and Favorite-Fit Linen/Cotton Deck Pant | $79.50 at J Crew.

Style question? We've got answers. E-mail us at tips at omiru dot com, or leave us a comment with your question.

14 comments April 26th, 2007