Q: Maybe you should give some suggestions on what female engineers should wear to an interview too.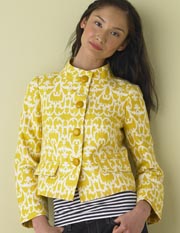 A:
We recently ran an article advising men what to wear to an engineering interview at a technology startup, and we got a request to give some advice to women engineers.
Like we said in the men's article, the ideal interview outfit blends the professionalism required of a job interview with the casual spirit of a tech startup.
Here's three foolproof interview outfits:
(1) Button-down Shirt + Dark Rinse Jeans.
The women's version of the men's foolproof outfit.
(2) Cardigan Twinset + High Waist Trousers.
On-trend trousers paired with a business casual classic.
(3) Cropped Jacket + Knit Shirt + Dark Rinse Jeans.
Mix it up with a standout structured jacket (like the one pictured at left) and the most formal of jeans.
Finish off each outfit with a structured handbag and a pair of low heels or flats.

Pictured: J Crew Linen-Cotton Colette Jacket | $235 at J Crew.
Style question? We've got answers. E-mail us at tips at omiru dot com, or leave us a comment with your question.

3 comments May 31st, 2007