Q: What can I wear with these bermuda shorts from the Gap? The pattern is very hard to match!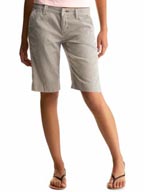 A: Yes, this tiny striped pattern is difficult to match exactly. Luckily, you don't have to match it to create a stylish outfit. But, for the sake of completeness, the rules about matching patterns are as follows:
(1) If you're matching different types of pattterns (e.g. plaids and paisley), keep the scale of the pattern the same. If you have a small paisley pattern, for instance, look for a small plaid print to match.
(2) If you're matching the same type of pattern (e.g. stripes and stripes), vary the size of the pattern. While a small stripe and a big stripe work well, two types of small stripes will look too matchy-matchy.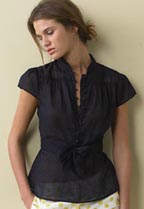 For this particular pair of striped denim bermuda shorts, we have three suggestions for you:
Knit Striped Deep V-neck Camisole | $39.50 at Gap
For a nautical-inspired look, match the small stripes with a top with larger stripes.
(Pictured) Emmeline Blouse | $78 at J Crew
For a delicate, pretty look, try this slightly ruched button-front blouse with fabric belt.
Proenza Schouler Canary Tissue Tank | $9.09 at Target
For a casual look, pair the striped shorts with a brightly colored plain tank.
Pictured: Striped Denim Bermuda Shorts | $34.99 (sale) at the Gap.
Style question? We've got answers. E-mail us at tips at omiru dot com, or leave us a comment with your question.

4 comments May 1st, 2007