Q: For a Christmas party this past December, I bought a beautiful black pencil skirt by Nanette Lepore. I'd really like to be able to wear this skirt at other times of the year. What sort of tops could I wear with it to make it more office and season appropriate?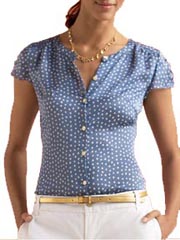 A: Transform this party-appropriate skirt into a part of your work wardrobe by balancing the dressiness of the skirt with a more conservative top.
Try pairing the body-hugging skirt with a looser silhouette on top. And because the pencil skirt hugs your curves, look for a top with either short or long sleeves–a sleeveless blouse with the pencil skirt feels more party than office appropriate. Here's three suggestions for you:
(Pictured) Silk Dot Print Blouse | $47.99 (sale) at Banana Republic
For a look that balances business and fashion, pair the silky skirt with a printed blouse.
Isabel Pleated Tuxedo Shirt | $64 at J Crew
For a coquettish look, play up the dressiness of the skirt with a cap-sleeved tuxedo-front blouse.
Cotton/Linen Embroidered Tunic | $68 at Banana Republic
For a more casual (but still office appropriate) vibe, try a relaxed fit cotton tunic.
Style question? We've got answers. E-mail us at tips at omiru dot com, or leave us a comment with your question.

1 comment May 3rd, 2007