May 7th, 2007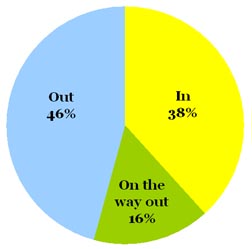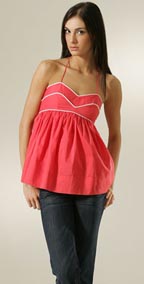 We asked: Is Hot Pink In or Out?
You said: Hot Pink is Out–or at least, On the Way Out. A whopping 46% voted this color Out, and another 16% cast their ballot for On the Way Out.
Omiru's take: Seems that while bright colors are In this season, pink's not getting the love. While pink isn't the new black, you're all for cobalt blue and bright yellow. Probably for the best. Style tip? If you dare to wear Hot Pink, skip the Pink-on-Black combination–it's a little too Hot Topic for our taste. Instead, complement the bright pink hue with a low-key grey.
Next Question: We asked you last year what you thought about Oversized Sunglasses–and you voted them On the Way Out. Now, a year later, we're checking in to see what you think of them now. Tell us, are Oversized Sunglasses In, or are they Out? Cast your vote
on the sidebar!
Pictured:
Foley for Foley + Corinna Chorded Top| $248 at Shopbop.

Entry Filed under: Trend,Trend Predictives,What's In and What's Out,Women