May 9th, 2007
Q: I love the look of knee length narrow coats, but I'm only 5′1". Is it against the fashion rules for me to wear such a long coat?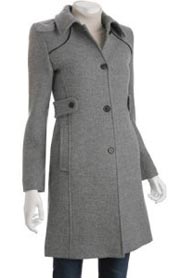 A: Don't be afraid to sport a knee-length coat if it's a narrow cut.
While long, floor-length coats will overwhelm your small frame, knee-length coats, if proportioned correctly, can be figure flattering. Here's six things to look for in a knee-length coat for maximum figure flattery:

(1) Styles with simple lines,
(2) One or two button closures,
(3) Narrow lapels that end above the natural waistline,
(4) Empire-waist styles,
(5) High necklines, which create the illusion of height, and
(6) Belts, which (if any) should be placed above the natural waistline.

Pictured: Via Spiga Smoke Grey Wool Blend Graphico Coat | $183.99 (sale) at Bluefly.
Style question? We've got answers. E-mail us at tips at omiru dot com, or leave us a comment with your question.