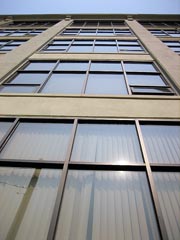 A couple of weeks ago, the Omiru community provided some great style advice to another Omiru reader, Christina, who was looking for fashion ideas for her summer design internship in New York.
You did such a great job, in fact, that another reader, Teresa, is asking for your sage advice.
Says Teresa, "I've lucked into every college student's dream - the office where I did my internship last summer has offered me a full time position after I graduate next month! In my new position I'll be working with design firms, community-member boards, and local construction contractors, so it's important that I look accessible but also respectable. My question about my new wardrobe is this. My identity and my style is quite butch; I'm not comfortable in feminine tops, curvy pants, or skirts. I'd like to retain the flavor of my personal style as I assemble a wardrobe for the working world. How do I do this without looking like I'm in drag?"
So, tell us, what do you think Teresa should wear to work? Please leave your advice in the comments of this post.


2 comments May 10th, 2007