May 15th, 2007
Q: All the empire-waist dresses and tops advertised this season look lovely - however putting them on in the shop makes me look like the one thing I'm not: pregnant. Being tall and rather slim still won't help. Any suggestions as to how to avoid the "she might just be" stares at work?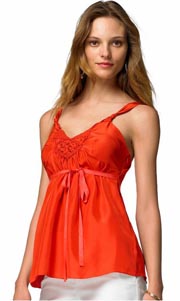 A: We know exactly what you mean about the might-be-pregnant empire waist styles. The pregnant look comes from stiff and/or blousy empire waist tops and dresses. Because of the elevated placement of the waistline, if the fabric beneath that waistline doesn't skim the body, you end up looking like you might be expecting. After the jump, two tips to avoid the pregnant empire waistline look:

(1) Look for styles made of drapey fabric, such as a buttery cotton jersey or silk charmeuse.
(2) If you've fallen in love with a blousy empire waist top or dress, wear a belt to reign in the extra fabric.
Pictured: Belted Silk Macrame Woven Top | $78 at Banana Republic.

Style question? We've got answers. E-mail us at tips at omiru dot com, or leave us a comment with your question.