May 16th, 2007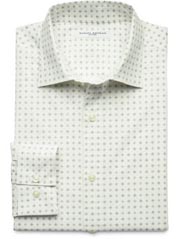 Q: I've got an interview at a software startup next week. What should I wear? I hear that the company is very informal, but I think I should dress up anyways.
A: Technology companies have a long history of casual dress. There, jeans and a t-shirt are everyday style–they aren't reserved for Casual Fridays.
The ideal interview outfit not only makes you look like the professional you are, but also respects this casual dress tradition. Mix casual and formal elements–such as a button-down shirt (remember to iron it!) and jeans.
Feeling stuck? Here's a foolproof interview outfit: Button-down Shirt + Colored Undershirt + Dark Rinse Jeans + Loafers. Bonus points for you if you choose a patterned–instead of striped–button-down shirt.
Here's 2 extra tips for your interview:
(1) No Suits Allowed. Should you wear a suit to an engineering interview, don't be surprised if you're weeded out as a "poor culture fit."
(2) Wear Good Shoes: Even though your outfit may be casual in feel, dress it up with your Good shoes. If they need a pick-me-up, remember to shine them pre-interview.

Pictured: Fitted Dotted Diamond Dress Shirt | $78 at Banana Republic.
Style question? We've got answers. E-mail us at tips at omiru dot com, or leave us a comment with your question.