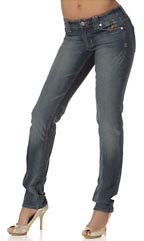 Q: I'm 5 feet tall, curvy, and love skinny jeans. Just think of me as a five foot Beyonce. What brand is best for me?
A: Off the cuff, we recommend Babyphat jeans, as they are designed to fit women with curves. But for personalized recommendations, we'd also suggest taking a look at Zafu.com. They've tried on and tested hundreds of jeans, and after filling out a short questionnaire (it took me less than 5 minutes), they give you your best jean recommendations.

Pictured: Babyphat Monarch Wash Skinny Jeans| $69 at Babyphat.
Style question? We've got answers. E-mail us at tips at omiru dot com, or leave us a comment with your question.

3 comments May 18th, 2007