May 21st, 2007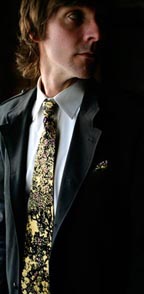 Mix up an everyday blazer and button-down shirt with this unexpected and wildly patterned Bloom tie.



Says designer Ryan Sovereign, "Bloom's original inspiration came from a olde-timey children's illustration. What really make this print take off is the coloring. We wanted to do a gold, and I mean GOLD tie…so printing the mustard color on satin silk, made it shimmer, especially in contrast to the flat black. It's very Glam."
Fun fact about the design duo behind Sovereign Beck? They used to be in a Goth (Horror Disco) band called Baby Shower.

$90 at Sovereign Beck.
Entry Filed under: $50-$100,Dads,Men,Men's Accessories