May 22nd, 2007
Q: Do you think high waisted wide belts will be the new fashion? How do you wear them?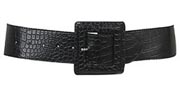 A: Wide belts are an ongoing trend, and coupled with this season's emphasis on a higher waistline, high waisted wide belts are on-trend.
Our favorite high waisted wide belt look pairs the belt with a high waisted pencil skirt. When the wide belt and the pencil skirt are the same color, the look is not only slimming, but your legs appear to be super long, making you look taller.

Pictured: Soft Gloss Snake Wide Belt | $8.80 at Forever 21.
Style question? We've got answers. E-mail us at tips at omiru dot com, or leave us a comment with your question.