Q: Where can I go for cool jeans? I'm in my mid-thirties and have a mortgage, so I'm looking for a good style to value ratio. What are the different "fits" I need to be on the lookout for?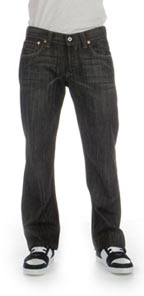 A: For a good style-to-value ratio, choose (1) a pair of jeans that fit you well and (2) a timeless style such as the original blue jean, slightly faded blue jeans, or dark denim. Really, the brand name is less important than how the jeans fit on you and how you feel in them.
As for the pricing of the "cool" denim brands, they run in several tiers. Here's an approximate price breakdown of the men's denim market:
Under $100: Cheap Monday
$100-$150: Lucky, Mavi, Paper Denim & Cloth
$150-$200: Kasil Jeans, Diesel, Joe's Jeans, Citizens of Humanity, 7 for All Mankind, True Religion, AG Jeans, Chip & Pepper
$200+: Evisu, Rock & Republic, Earnest Sewn
As for the different denim fits, there are five major styles to look out for.
(1) Classic Fit jeans have a mid-level rise and an easy, loose fit.
(2) Relaxed Fit jeans have a loose, relaxed fit through the thigh and feature a low to mid-level rise.
(3) Straight Leg jeans, like their name implies, have a straight-cut leg and a low to mid-level rise.
(4) Boot Cut jeans also have a low to mid-level rise and have a leg that widens from the knee down to the ankle.
(5) Skinny jeans have an extra slim leg and generally a lower rise.

Pictured: Kasil Victory Jean in Midnight | $187 at Revolve Clothing.
Style question? We've got answers. E-mail us at tips at omiru dot com, or leave us a comment with your question.

4 comments May 23rd, 2007