Q: I'm attending a business conference in Miami with my boyfriend in July. I want to look fashion-forward but not out of place. What should I wear to the day gallery sessions and the after parties?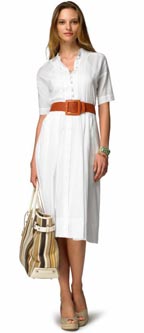 A: Miami style is fashion-forward and very body conscious. But since you'll be there on business, balance that image consciousness with business-appropriate attire that will help you beat the humidity and the heat.
For your day sessions, we have four outfit suggestions:
(1) Button-down shirt + Wide Belt + Pencil Skirt
(2) Cropped Jacket + Patterned Sheath Dress
(3) Floaty Blouse + Pencil Skirt
(4) Shirtdress
As for the evening after parties, remember that you're still at a business conference. Avoid overtly sexy styles, like deep plunging necklines and strapless dresses. We'd recommend either wearing a dress–wrap dresses are simple and chic–or a blouse-skirt combination. Stand out from the crowd not for the silhouette–but for the colors and the patterns you choose to wear. Don't be afraid to sport bright colors–they're both on-trend and appropriate for Miami's tropical weather.
One last thing–afternoon thunderstorms are quite common during the summer. Don't forget your umbrella and rain jacket!

Pictured: Crochet Button Shirtdress | $148 at Banana Republic.
Style question? We've got answers. E-mail us at tips at omiru dot com, or leave us a comment with your question.

3 comments May 24th, 2007