Q: How do you match a tie to a shirt?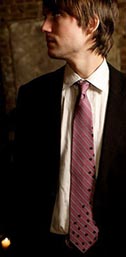 Omiru is pleased to bring you the answer to this style question from Ryan Sovereign, one half of the design duo behind the quietly provocative neckwear line Sovereign Beck.
A: Generally, a tie should either totally match the shirt, like when you buy those tie/shirt combo's at Kmart, or it shouldn't match at all. I most often go with light pink, light blue or white…the safe route. My design partner, Will, is a bit more risqué with his tie/shirt combos. Truthfully, though, I really can't lay down any hard and fast rules, since it all depends on what the wearer is capable of pulling off. And if you can match a patterned shirt with a patterned tie, you're doing something right!
Want to learn how to match a patterned shirt with a patterned tie? Omiru shows you how to mix and match patterns.

Pictured: Beetles Tie | $90 at Sovereign Beck.
Style question? We've got answers. E-mail us at tips at omiru dot com, or leave us a comment with your question.

2 comments May 30th, 2007