Q: Dress socks. At the end of the day i want to rip them off my feet and throw them off the building. What are good dress socks that actually fit a certain foot size, not "Men's 6-12"?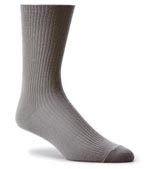 A:
The best I've seen are socks that are sized Medium, Large, and Extra Large–a step above the one size fits all sizing that most sock manufacturers use. For a comfortable, sized dress sock, we'd recommend the socks over at World's Softest. Featuring patent-pending SoftSeam technology, the socks reduce rubbing and irritation from toe seams.

Pictured: World's Softest Men's Dress Crew | $4.99 at World's Softest.
Style question? We've got answers. E-mail us at tips at omiru dot com, or leave us a comment with your question.

Add comment June 6th, 2007