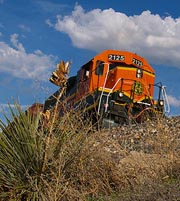 Asks Melissa, "I am taking an 8 hour train ride, and my beau will be picking me up from the train station. What should I wear? If it was just my family or a friend picking me up, I'd wear something fairly casual. However, as I haven't seen my beau in a month, I want to wow him when I step off the train. But because I will be travelling for quite sometime I don't want to be overdone. What to do?"

Tell us, what do you think Melissa should wear on her train ride? Please leave your advice in the comments of this post.
Oh, and the best answer (as chosen by Melissa) by Wednesday, June 13 gets a treat from Omiru's goodie closet!


7 comments June 7th, 2007