June 8th, 2007
Q: I'm 5′2" and have a bust size 32A. What style of swimsuit do you suggest for my size?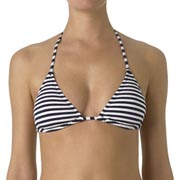 A: Your ideal swimsuit will accentuate the bust you have–and make you look more curvy than you are. Here's three things to look for in a swimsuit:
(1) Styles with a hidden underwire, which will give you extra support.
(2) Styles with removable padding, which will help maximize the bustline you already have.
(3) Bikini tops with shaped cups, which will help to create curves. Tie-front bikini tops, in particular, can be tightened to create the appearance of curves. Ruching also helps to enhance your bustline.
You'll want to avoid any swimsuit tops that will diminish your curves–such as bandeau style tops or tube-style swimsuits.

Pictured: Wave Stripe Patterned String Bikini Top | $42 at J Crew.
Style question? We've got answers. E-mail us at tips at omiru dot com, or leave us a comment with your question.