Q: My dad is one of those men who is still sporting his awful eighties-style men's fanny packs. For Father's Day, I could get him either a classy alternative to fanny pack, or better yet, (if possible), a classy looking leather fanny pack for him to wear instead. What do you think?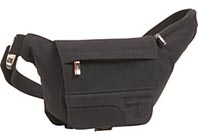 A:
The best gift is something that your dad will enjoy, but also something that you are proud to give your dad. While we don't love the 80s fanny pack look, we like the utility of the idea. Our favorite men's fanny pack combines both utility and style:

(Pictured) Sando Hip Pack | $125 at Tumi
This compact pack is updated for the 2000s with a retractable key leash.
Should your dad be more open to a fanny pack alternative, we have two more suggestions for you:
Sando Gadget Bag | $145 at Tumi
Perfect for day trips with dual interior compartments and multiple accessories pockets.
T-Tech Flow Sling | $175 at Tumi
Your dad can sling this roomy bag over his shoulder for a casually cool look.

Style question? We've got answers. E-mail us at tips at omiru dot com, or leave us a comment with your question.

3 comments June 13th, 2007