June 14th, 2007
Q: I'm an attractive 49 year old with a cute figure - I'm 5′3", size 6 and I wondered what you would recommend for casual summer clothes. Empire waist and loose tops make me look pregnant, and yet walking shorts and polo shirts seem so dull! Any suggestions on age appropriate attractive outfits?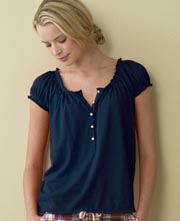 A: We have four easy-to-wear fashion formulas for you for casual summer days:
(1) Sleeved Shirtdress
(2) Printed Dress
(3) White Blouse + Belt + City Shorts
(4) Cropped Jacket + Knit Top + City Shorts.
Perhaps more importantly, to turn ordinary outfits into ones that are likely to turn heads, it's all in the details–and the colors you choose. Instead of a plain polo, for example, try a knit top with delicate pleating–such as this Featherweight Cotton Peasant Top ($42 at J Crew), pictured at left. Or instead of a regular pair of shorts, try a pair with a rolled cuff–or a pair in a different fabric blend. We like these Roll Up Shorts from Generra ($196 at Shopbop).

Pictured: J Crew Featherweight Cotton Peasant Top | $42 at J Crew.
Style question? We've got answers. E-mail us at tips at omiru dot com, or leave us a comment with your question.