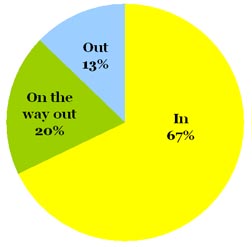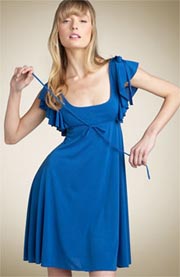 We asked: Is Electric Blue In or Out?
You said: With 67% of the vote, Electric Blue is most definitely IN.
Omiru's take: We love bright colors–especially for summer, and particularly for this season. What's special about Electric Blue is it's nearly universally flattering. On dark skin tones, electric blue really pops. And on fairer skin tones, the color adds life to your complexion. Style tip? With a color as bold as this, keep your outfits simple. Try electric blue as a solid colored dress–or buy a simple top in this bold color.
Next Question: With oversized handbags still dominating the accessories scene, we're pleased to see that small Clutch Handbags are gaining in popularity. But what do
you think? Tell us, are Clutch Handbags In, or are they Out? Cast your
vote on
the sidebar!
Pictured: Velvet Torch Flutter Sleeve Dress | $58 at Nordstrom.

5 comments June 18th, 2007