Q: I'm going on a cruise to Alaska in early July, and I was wondering what clothes to bring. How should I dress for the changing weather conditions without looking frumpy?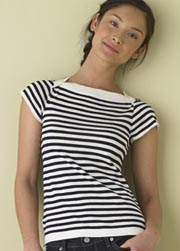 A:
Alaska tends to be in the 60s and 70s during July, with nighttime temperatures dipping into the 40s and 50s. To adjust for the changing weather conditions as you travel up to Alaska and back, it's all about layering. Your goal is to be comfortable in every situation–instead of wearing (frumpy) too-thick clothing that isn't as versatile as you'd like. Here's six tips that will get you layering your clothes in style:
(1) Start with a body-conscious foundation layer, such as this fitted striped top from J Crew.
(2) Next, place looser-fitting garments over this foundation layer. Stiffer fabrics that will hold their shape can work nicely here.
(3) For the top layer, either (1) provide a stark contrast to, or (2) echo some of the detailing in the garments below.
(4) Let the inner garments peek out from under the outer garments.
(5) Vary the length of the tops and bottoms to get the full layered effect.
(6) Finish the outfit with standout accessories.
Have any other layering tips? Share them with us in the comments!
Pictured: J Crew Rialto Boatneck Sweater | $68 at J Crew.
Style question? We've got answers. E-mail us at tips at omiru dot com, or leave us a comment with your question.

5 comments June 19th, 2007