June 20th, 2007
Q: I've seen pictures of guys (Hollywood-types) wearing black ties with white shirts and grey suits. I like the look, but is it business-appropriate? My sense is no - it seems more like a night-out / formal / dressy occasion combination. What do you think?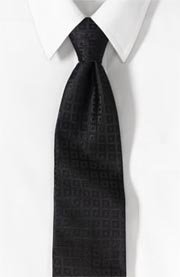 A:
While the look is decidedly formal, it's still business appropriate in certain settings. The more visibility, authority, or client contact you have, the more formal your dress should be. And depending on where you're located, business dress may be more or less formal. Rule of thumb for the US? The further east you are, the more formal the dress.
Love the look, and it's better to be overdressed than underdressed.

Pictured: XMI Silk Tie | $75 at Nordstrom.

Style question? We've got answers. E-mail us at tips at omiru dot com, or leave us a comment with your question.