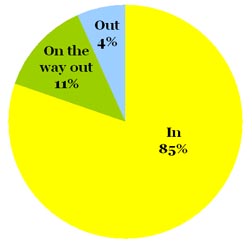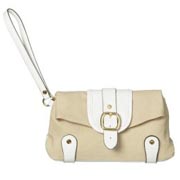 We asked: Are Clutch Handbags In or Out?
You said: With 85% of the vote, Clutch Handbags are most definitely IN.
Omiru's take: Clutch handbags are the perfect way to add a touch of refinement to casual summer styles, and they're equally fetching as a counterpart to tailored fall looks. We're pleased that you love them as much as we do. Style tip? Need both hands? Look for clutch handbags with wrist straps.
Next Question: We love Geometric Prints as a wardrobe pick-me-up for both Summer and Fall.
But what do
you think about Polka Dots? Tell us, are Polka Dots In, or are they Out? Cast your
vote on
the sidebar!
Pictured: Issac Mizrahi Clutch Handbag in Tan/White | $14.99 at Target.

Add comment June 25th, 2007