Q: I fell in love with a pair of shorts at Forever 21. The only problem is that they are PURPLE! Don't get me wrong, purple is one of my favorite colors, but I have absolutely no idea what to wear with these shorts besides white and/or black. Tips, please?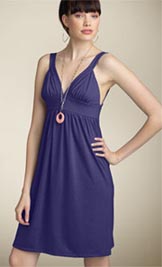 A:
Here's three tips for creating an outfit around the color purple:
(1) Create a Monochromatic Color Combination:
Pair your purple shorts with a top that's another shade of purple for a monochromatic look. Mix a dark shade of purple with lilac, for instance.
(2) Go for a Duochromatic Color Combination:
Mix purple with a different hue, say a splash of yellow-orange or a blue-green, for variety. But don't mix the two in equal proportions–make one the dominant color and the other the subordinate color with a 75-25 proportion.
(3) Add Neutrals:
Purple combines well with shades of grey, beige, and brown. Taupe, in particular, will pair well with purple.
Our favorite color combinations with purple? Purple + Grey, Purple + Cerulean Blue, Purple + Brown, and Purple + Orange.
Have a great tip about how to wear purple? Share it with us in the comments.

Pictured: Velvet Torch V-Neck Slipdress | $50 at Nordstrom.
Style question? We've got answers. E-mail us at tips at omiru dot com, or leave us a comment with your question.

10 comments June 26th, 2007