Q: My husband and I have been invited to a work party at a fancy restaurant. My husband is an attorney, and most of the guests in attendance will be attorneys and judges. The invitation states that the attire will be "Summer Chic." Please describe "Summer Chic" and how it would apply to men and women.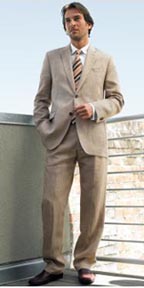 A:
Summer Chic implies a degree of casualness, but given that the event is a work party at a fancy restaurant, keep the outfit professional.
For Women: Sleeved dresses or two-piece outfits–nothing too revealing. Have a sleeveless dress? Pair it with a cropped cardigan sweater. Light colors and lightweight fabrics will turn this outfit from plain chic to Summer Chic.
For Men: Two-piece suits, coordinated or uncoordinated, in lightweight fabrics. For summer, I like light colored suits–shades of khaki or cream are seasonally appropriate. Wear a dress shirt and tie, though feel free to mix things up with bright colors or bold patterns.

Pictured: Heritage Linen Suit | $473 at Banana Republic.
Style question? We've got answers. E-mail us at tips at omiru dot com, or leave us a comment with your question.

3 comments June 27th, 2007