June 28th, 2007
Q: I am going on a river floating trip with my boyfriend in the next few weeks, what can I wear over my swimsuit that will be functional and stylish?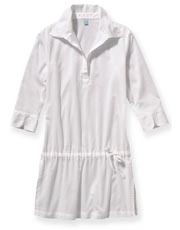 A: Function comes before form when packing for a river rafting trip. You'll be boating down a river, so be prepared to get wet. But you'll also be in direct sunlight for a good portion of the trip, so it's best to be able to adjust your clothing for the weather and water conditions. Here's three fashion tips for your river rafting trip:
Dress in Layers: On top, we recommend a loose fitting tunic in a lightweight fabric, such as the Water Girl Un-Dress Tunic (pictured). Shorts are also a simple, functional option for the summer heat. A less-conventional option is a sarong, which is a great swimsuit cover-up that also doubles as a dressy item to wear at camp post-rafting.
Wear Quick-drying Clothes: You'll be getting wet, so wear lightweight clothes that dry quickly. Look for materials like polyester, nylon, polypropylene, capilene or fleece.

Remember your Sun Hat: Either choose one with a security draw cord or purchase a separate hat clip so as not to lose the hat if the ride gets rocky.

Pictured: Water Girl Un-Dress Tunic | $68 at REI.
Style question? We've got answers. E-mail us at tips at omiru dot com, or leave us a comment with your question.