Q: I am a chubby short waisted woman, and most blouses or shirts are way too long waisted for me which causes them to gap at the front. Can you help me?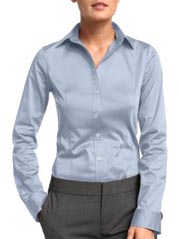 A: If your shirts are gapping at the front, buy shirts from retailers whose fit features a wider waistline (this advice also holds true for those with no waist, like myself). I've had good results at Banana Republic and Gap for shirts. If you fall in love with a particular shirt, though, you can buy a larger sized shirt and have it tailored down to your shape.

Have a great tip about how to prevent shirt gapping? Share it with us in the comments!

Pictured: Fitted Shirt | $34.80 (sale) at Banana Republic.

Style question? We've got answers. E-mail us at tips at omiru dot com, or leave us a comment with your question.

5 comments June 29th, 2007